It will be great to enjoy delicious Vietnamese food with family and friends. Understanding that Pho L'amour Cafe has started a buy 3 get one free promotion, you can share more and enjoin precious time at our restaurant. The hot deal is only valid for dine-in on Friday every week and does not applyfor the appetizer menu.
Why don't we stop by Pho L'amour Cafe at 16960 W. Greenfield Ave Suite 2 Brookfield, Wisconsin to taste iconic Vietnamese cuisine such as Vietnamese Pho, Sandwich, Rice Plate, Rice Fried,…. The menu also has a variety of attractive dishes from Asia like Pad Thai, Chicken Cury, Teriyaky Chicken;…. In addition, this is an ideal destination for those who love the true taste of coffee or taste refreshing summer beverages. Besides that, a cozy and spacious space for meals with family and friends is a plus point.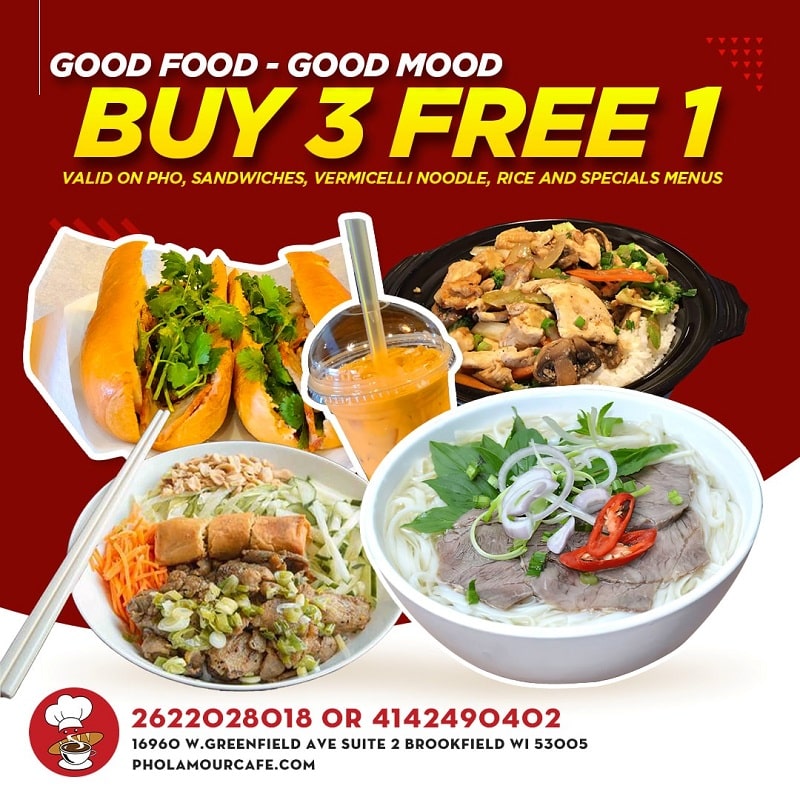 Now let's invite your relatives and friends to visit the restaurant to receive the promotion buy 3 get 1 free. Eaters are enjoining savory dishes and friendly service. For detailed information or reserve a table, please call our hotline: 2622028018 or 4142490402.
For reservations, please call a dishe reservations at the address below:
 Website : https://pholamourcafe.com 

Fanpage Pho L'amourcafe
 Address: 16960 W. Greenfield Ave suite 2 Brookfield WI 53005
 Open: 10:30 – 20:30
 Hotline: 2622028018 or 4142490402 (Whatsap- Viber)